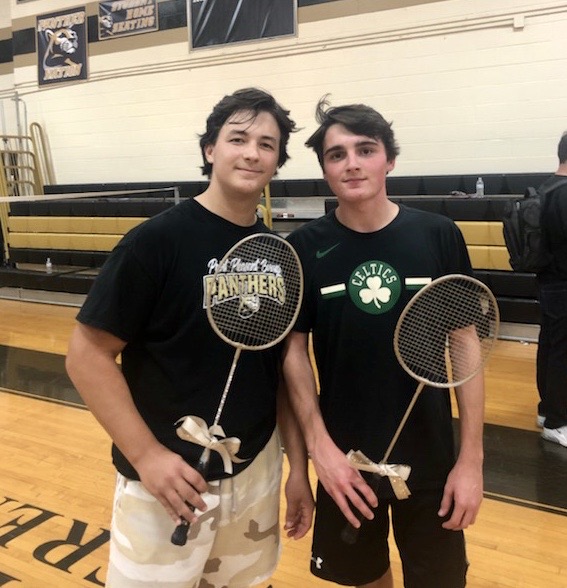 On November 6th, the senior class at PPBHS participated in its annual badminton tournament held in the high school gym. The badminton tournament is a traditional competition, organized by Mrs. Ritter and Ms. Stabile, where students from the senior class are placed into twelve teams of two and play against each other in a double elimination bracket. The teams gathered during the lunch and learn period and were going at it for an hour and twenty minutes! Tempers were high and rackets were broken as teams were eliminated left and right, until there were only four teams left in the competition: Mariano Maradiegue and Ricky Roselli played against Nick Zbikowski and Matt Buccino for third place, while Alex Drucquer and Luke Severio faced off against Jake Magley and Steven Redler for first place.
The third place game was split, as Nick and Matt were victorious in two games, earning them the bronze medal. While Alex Drucquer and Luke Severio took first place in their series of two games, as well.
Afterwards, Luke gave his thoughts on his team's confidence level leading up to the tournament, he said, " We played Mr. Fehring and James Latendorf and they are both very good. But, we dominated them, so I felt really good about our chances in the tournament." Severio was an essential part of the duo with his powerful spikes and his ability to execute plays close to the net. Alex was also a key player on the team with his ability to get to the back of the court and return shots was incredible.
When asked who he would like to thank for his team's success in the tournament, Alex said, "I would like to thank Mrs. Ritter and Mrs. Stabile for putting together this great tournament. They didn't have to do it, but they went out of their way to put this all together and the kids love it." This win put an end to yet another successful Badminton tournament at Point Boro High School.