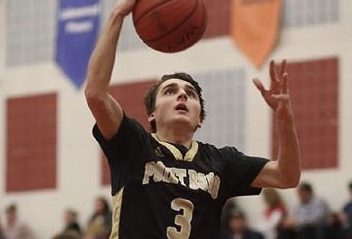 Photo courtesy of Jim Rosa
The boys basketball team is currently 5-2 (4-0) , and are currently riding a 4 game win streak. The team captured a big confidence boosting win over a tough Toms River South team in the consolation rounds of the WOBM Holiday Tournament. Sophomore Matt Lee led the way for the panthers by dropping 25 points, getting the Panthers back to .500 on the young season. The next task at hand was traveling to Lakewood where the boys picked up a big win behind strong showings from Seniors Alex Druquer, Sam Young, and AJ Hernandez. The boys have been hot lately and they don't seem like they are going to slow down anytime soon. #rollboro
The girls basketball team is getting back to its winning ways after defeating Lakewood on Friday January 3rd. The win puts the girls at 2-3 (2-0) on the year and they seem to be coming to life which is a good sign as the season is really going to start to pick up in the coming week or so. Senior Kate Leturgez and Junior Lila Shaver were key components in the win against Lakewood with Kate nearly putting up a double-double with 9 points and 14 rebounds, and Lila putting up a game high 18 points for the Panthers. 
Bowling has been staying competitive and everyone is continuing to work hard in practice each and every day to grow and improve so success can occur.  Junior Zach Mongrella put up a career high in a meet earlier this year scoring a 167. He is one of the leaders of the bowling team and is highly respected in the bowling alley. Overall, the team is 1-5 and are just looking to compete and have fun the rest of the way.
The wrestling team is currently 2-0 in duel matches with big wins over Ocean Township and Manchester. Leading the way is Senior Ty Bailey and his brother, junior Jack Bailey. Ty is currently 10-1 and 8 wins away from his 100th career win. Point Boro's lower and middle weights are the strength of the team. In tournaments, sophomore Lucas Sabo, senior Ty Bailey, and junior Jack Bailey all have first place finishes. Senior James Latendorf, Junior Jack Bailey, Freshman Jack Thompson, and Sophomore Lucas Sabo have second place finishes. Sophomores Lucas Toree, Charlie Latendorf, and juniors Gavin O'Connor, and Pat Frawley all have third place finishes. 
Swim is currently highlighted by the girls side of things, as they are currently 5-2 on the year. With a lot of talent on this team, the girls are looking to compete in the state tournament later on this season and possibly avenge their loss to Manasquan if the bracket pans out that way come "playoff" time. The Boys are looking for their first win of the season as they are 0-7. Senior Joey Picolli has been keeping a positive attitude throughout the season and looks to help develop some underclassmen for their swim careers throughout their high school careers.