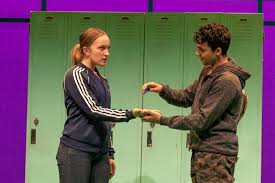 Lily R.
On January 24th in the Point Pleasant Borough High School auditorium the DART Coalition (an organization that focuses on preventing underage drinking, prescription drug use, and the illegal use of marijuana and tobacco in Ocean County) funded the performance of the play, Anytown, for our district based on the recommendation from the Ocean County Prosecutor. The assembly was being held for 8th and 9th grade students where it ran for 65 minutes and included a post-play discussion. Our school is so thankful for being lucky enough to be selected by RWJ Barnabas Health Dart Coalition to receive a grant secured by Mrs. Hankins (Student Assistance Coordinator) and the Panther Prevention Program for one free showing!
Anytown was developed in partnership with the Horizon Foundation for New Jersey and RWJBarnabas Health in response to the devastating impact prescription opioid misuse, heroin, and fentanyl have had on communities throughout New Jersey. The play is targeted for upper middle school, high school, and parent audiences. The story line follows a star athlete, Hope Baker, who sports a 4.0 GPA and limitless potential until a boy she likes offers her a pill to reduce the pain she faces from a soccer injury. Hope makes a decision that will rapidly transform her dreams into an escalating nightmare. With her future at stake, we find out if Hope will get the help she needs before opioids destroy everything she cares about.
The play truly did an excellent job of highlighting how detrimental opioids and other addictive drugs can be on a young individual and their reputation. They demonstrated the realistic peer pressure and thrill that comes along with dating a 'rebel' whom she let take advantage of her. As Hope increasingly becomes addicted to the painkillers, her mom and friends become skeptical about her behavior and who she is hanging around. Hope starts to lose motivation to do daily activities she once performed, becomes uninterested in soccer, and focused more on the feeling of getting high  rather than school, scholarships, and grades as a result of her addiction. 
One time, she even steals her best friend's grandmother's medication when she has no money or painkillers left to satisfy her withdrawal, illustrating just how addictive these types of drugs can be. Hope continues to flush her money, soccer career and college potential down the drain as she falls deeper and deeper into her addiction. At the end of the play, Hope neither finds help nor a way to beat her problem, but rather symbolizes giving up her life and career to the drug by placing a mask over her face, indicating the ability of drugs to take over and ruins one's life and personality so easily. 
After speaking with Mrs. Hankins from our Prevention Program, she hopes that "the play has a long lasting impact on the students and if a student is ever offered a prescription drug due to an injury or illness they will remember the play's message before taking the substance." 
I strongly believe this play did have a lasting impact on the students who attended, teaching them the right way to prevent drug use, avoid peer pressure, and follow healthy life choices. Thank you George Street Playhouse and its actors for bringing an important and timely subject to our school. We are so grateful! To learn more about other plays conducted by the playhouse, visit georgestreetplayhouse.org for additional information.