Is Point Boro Football Back?
This year's statement start by the Panther squad may make you wonder, is Point Boro Football back?
"
It's definitely exciting, we've played well at times, but could be better. We have to keep it up when we see better competition"
— Coach Canary
Through the first seven weeks of the fall season, the brotherhood is off to a 6-0 start. They are not only undefeated, but champions of the Patriot division, beating Shore Regional 34-20 (4-1) , Jackson Liberty 41-6 (1-5), Asbury Park 42-14 (4-2) , Manchester 48-14 (2-4), Barnegat 41-0 (3-3), and National Division Champions Monmouth Regional 49-6 (5-2), leading the Shore Conference in points per game (42.5), as well as yards per game (374.6). The Panthers have a whopping 2,005 total rushing yards pounding every defensive front in their way this season. They have outscored their opponents 255-59 this season, holding their opponents to 186 yards per game, and less than 11 points a game. 
Coach Ryan Canary shared his thoughts on starting off the season strong up front in the trenches with the offensive line. He explained, "It's definitely exciting, we've played well at times, but could be better. We have to keep it up when we see better competition."
Along with dominating on both sides of the ball, the Panthers are also dominating on special teams. Sophomore Matt Oliphant has taken two kick returns to the house while junior Connor Cilento has recovered three kickoffs. Additionally, senior Thomas Welch recovered one this recent week at Monmouth Regional. 
Special Teams Coach Dave Johnson had this to say when asked about the stellar performance from Specials this season: "It's been something we've been talking about since the spring. We've been working hard at this in practice, and it's great to be rewarded for putting in the time, not taking these plays off." Safe to say Mr. Johnson and kicking guru Coach Matos, have done a great job of getting the special teams going to keep things locked up in that phase.
The triple option attack has created nightmares for opposing defenses. This four headed monster of a backfield led by Senior Quarterback Charlie Vitale has accounted for 2,248 total yards, Jake Croce leads the team in rushing with 559 yards on 67 carries (8.3 ypc), followed by Vitale with 486 yards on 61 carries (8 ypc), then Cilento with 457 yards on 29 carries (15.7 ypc), and finally Oliphant with 279 yards on 41 carries (6.8 ypc). Throughout the four of them, they have accounted for 28 rushing touchdowns this season, which is over 4.5 touchdowns a game. Also, in case you forgot Point Boro can throw the ball a little as well. Vitale is 11-15 for 240 yards with 4 touchdowns to one interception, his only INT coming off of a tipped pass.  
As of 10/13 the Panthers have added two opponents to their schedule, one being quite the familiar face. The Panthers will be seeking revenge as they host the team across the canal (4-2) on 10/22, who put a whooping on the Panthers last fall. Followed up by a visit to group four school Middletown North (5-1) the following Friday to end the regular season.
With what seems to be Point Boro's first test this week against Manasquan. Our undefeated squad looks to turn a lot of heads and finally get the respect they deserve this Friday 10/22 @ Al Saner at 7pm. It will be a battle for the ages.
After going 26-5 from 2015-2017 and coming up short in 2017 in the State Final against Hillside at Rutgers, the undefeated Point Boro Panthers have plans on making deep into the state playoffs this upcoming November.
View Comments (1)
About the Contributor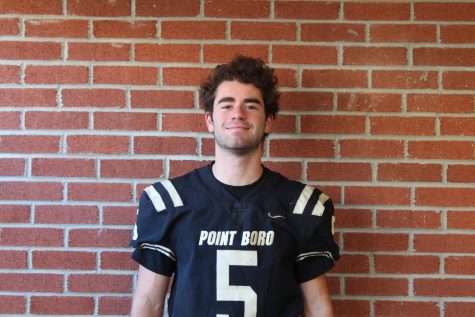 Charlie V., Co-Assistant Editor
I am a senior at Point Borough high school and play quarterback and cornerback for the football team.  I also participate in Heroes and Cool Kids, Special...