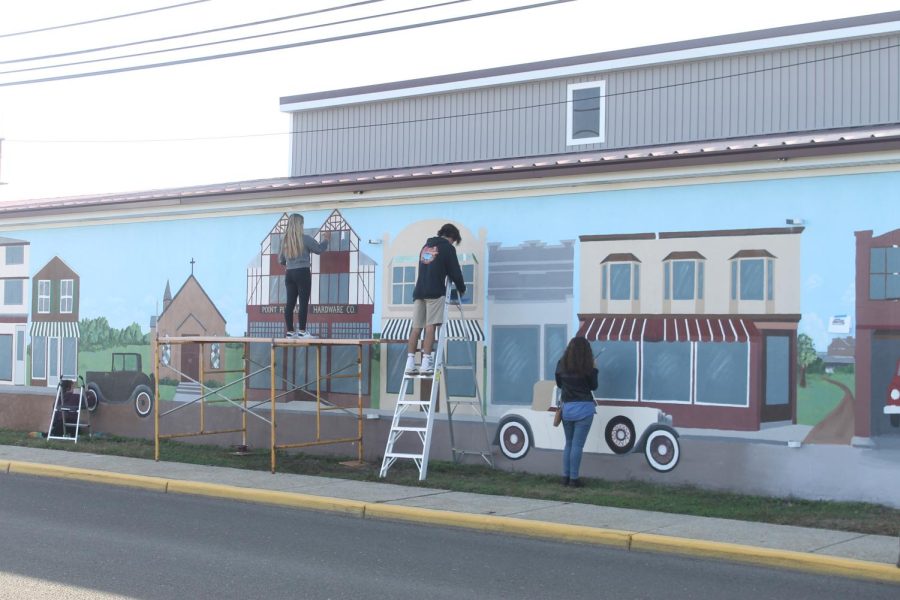 On October 20, Point Boro art students helped revive the "Great Wall," a large mural that captures 100 years of Point Pleasant's history.
Painted in 1985 by artist and former Point Pleasant teacher Sheila Soyster, the "Great Wall" was one of the most prominent pieces of art in town. However, time has caused the images to crack and peel away. Graffiti has ruined some of them, too. 
Students currently enrolled in an art course were given the opportunity to escape the monotony of school life and came to help bring the massive painting back to its former glory. Some of the images that were repainted included businesses, churches, and cars. Together, the students were able to restore a large portion of the "Great Wall".
Mrs. Mitreuter, an art and photography teacher at Point Boro High School, was one of the facilitators of the field trip. She thinks the trip was very successful. 
"We got such a large space completed and touched up in such a small amount of time. The number of volunteers that showed up daily was only 2 to 3 people. And they weren't able to do the manpower the high school kids provided."
Ultimately, getting the high schoolers involved was the final push towards the mural's completion. Two weeks after the students' visit, Sheila Soyster completed the restoration of the "Great Wall".