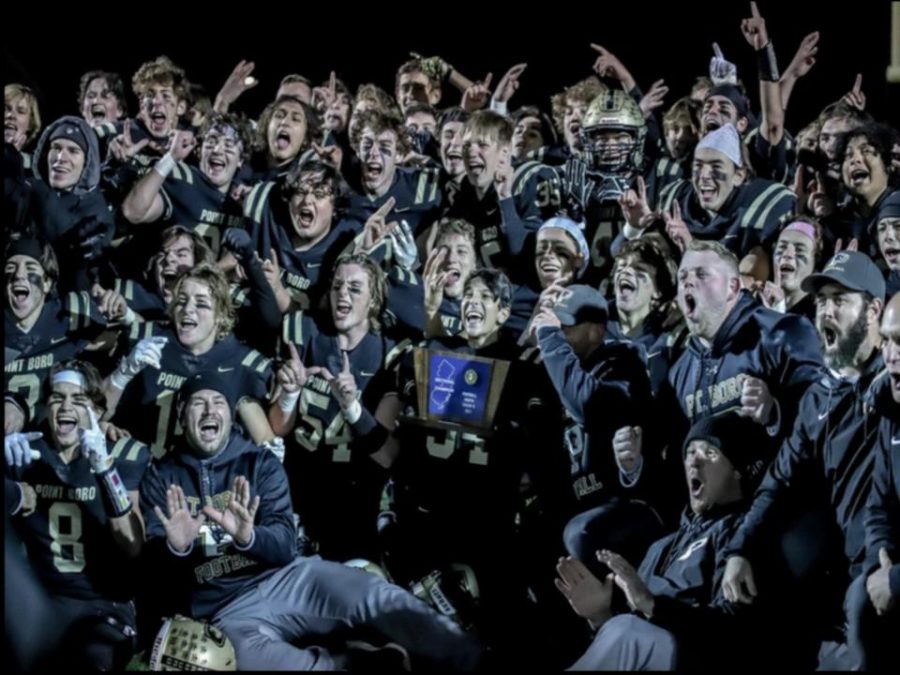 Photo Credit: Black and Gold Parents Football Club
Point Boro Football finished the regular season 7-1, with the only loss coming from rivals Manasquan. The final score was 35-30 in a battle that Boro should have won. The Panthers did bounce back with a win the following week against a tough Middletown North squad by a score of 20-12 in the middle of what seemed to be a monsoon with up to 40 mph winds along with on and off pouring rain. That did not stop Sophomore Jake Croce as he had 17 carries for 186 yards and a touchdown. This win could not have been achieved without a magnificent performance by the Panther defense, three players recorded at least 9 tackles. Leading the "dark side" was junior Tyler Gordon with a total of 11 tackles, and an 80 yard punt by sophomore Matt Oliphant with under three minutes to go in the game to pin the Middletown North Lions on their own 1-yard line with lots of help from the incredible winds that night.
The Panthers we're given the No. 1 seed in the South Jersey Group II Playoff bracket, which means they've been rewarded with home field advantage throughout the playoffs. Playoffs began with a rematch against Monmouth Regional in the first round, beating them a second time this season 35-14. Senior quarterback Charlie Vitale led a monster backfield with 13 carries for 114 yards and a touchdown. 
The team advanced to the semifinal round against a good New Providence team, who has a running back that has rushed for over 1,700 yards this season. This didn't seem to matter to Boro, as the stellar defensive line and co. made it a nightmare for them to run the ball, filling gaps and not allowing their offensive line to get any sort of push. Juniors Connor Reynolds and Aidan Ward, and sophomore Charles "BOOM" Davison have really stepped it up in big games against good teams getting pressure on the opposing quarterback, forcing turnovers and scaring the opposition with their tenacious football mentality. The Panthers versatile offense strived on the ground as they pounced on the New Providence Pioneers 28-7 to punch their ticket to the State Sectional Final for the first time since 2017. Paving the way was Jake Croce getting 15 carries for 122 yards and a touchdown, followed by Vitale getting 10 carries for 103 yards and a pair of touchdowns.
I have to say, this offensive line for the Panthers has been nothing short of dominant this season, with senior center Justin Tuzzolino manhandling opposing nose tackles every play with his menacing DAWG mentality, followed by guards Luke Wilson and BOOM Davison paving the way for these Panther backs to run wild every game. Lastly, tackles senior Mike Meccia and junior behemoth Cole Skinner have been bullying defensive ends and linebackers on a weekly basis. In the State Sectional Final, Boro bullied Willingboro and defeated the Chimeras by a score of 32-8 to secure the hardware, South Jersey Group II State Sectional Champions! Tyler Gordon had a three touchdown performance, one of which being a pick six in the fourth quarter to seal the victory. Connor Cilento made his presence known early with a 69 yard touchdown catch in the first quarter. The Panthers defense got off to a rough start when they drove down the field and scored on a 35 yard run, but they knew they weren't in trouble, letting up just over 100 yards of total offense for the chimeras, 60 of which came on the first drive.
For the first time since 2005, the Point Boro Panthers are champs once again. They will now take on Haddonfield who stands at 9-2, coming off a statement win against Raritan in the Central Jersey Group II Sectional Final. They will face Haddonfield on December 4th at 10am at Rutgers stadium.
Folks, it is safe to say, Point Boro football is back!