Students Defend Title Against Staff
Hang on for a minute...we're trying to find some more stories you might like.
On Wednesday, March 20, Point Pleasant Borough High School held the annual Student vs. Staff Basketball Game, in which senior students play against various staff members from around the school. Fans were not only treated to just a basketball game, the event also included multiple parts such as giveaways, races, paper airplane tosses and more. The game was hyped up for over a month and was funded by multiple local businesses such as Pine Belt Auto and Bubakoos who provided most of the food for the event. Students could buy their tickets online or at the door for $2 each and were given panther pit t-shirts for every ticket purchase.  Not only did students receive a t-shirt, they were also entered for the chance to win a $300 Gamestop gift card.
The game started out very well with the teachers gaining an early lead, but as the game continued the students began to put up a bigger fight. At halftime the game was stopped for the first event of the night, a drawing was done to see who had the chance to win a car provided by Pine Belt. The winner of the drawing was Liam Kirinovic who was given the chance to take a half court shot to win a car. The tension was high as he took position on center court and took the shot. The ball soared through the air, but in the end, there just wasn't enough power on the shot and the ball fell short of its destination.
There were also other events such as a paper airplane throw for the $300 gift card won by Kayla Percy, a three-legged race, and a lawnmower race. The game ended with a buzzer beater layup by Allie Delaney which began the controversy. According to the video of the game, the ball was still in her hand when the clock hit zero so technically in the end the teachers were the real winners. Steven Redler, one of the students who helped find sponsors for the game, described his thoughts on the outcome, "It was a good event. We had way more attendance than last year and all of the money made from the game, which increased from last year, is used toward the school and our education."
About the Writer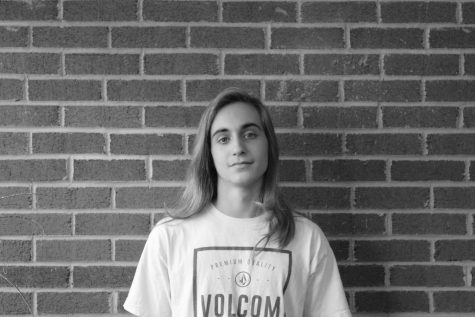 Jakob B., Staff
I joined Journalism because it was an opportunity to have an interesting class with some of my friends. I am still undecided about future plans after high...