Junior Prom With a Twist
The PPBHS Class of 2022 was lucky to have the opportunity to celebrate a prom on April 30th, 2021 at Jumping Brook Country Club. Everyone looked so elegant and it definitely was an event to remember. This year's prom theme was "Enchanted", and many guests wore jewel tones: reds and greens and purples. The outside view was beautiful and the music boomed throughout the ball room. Before students arrived at Jumping Brook Country Club, a survey was sent out to the students to vote prom king and queen. The prom court winners were: Chris Nunez, Lorri Gillow, Colton MacGlashan, Mary West, Frank Murphy, Lily Strassheim, James Fritz, and Katelyn Hynes. The Prom King was Robert Valente and the Prom Queen was Olivia Valente.
The dance floor was filled and everyone was dancing like there was no tomorrow. However, the venue ensured everyone would remain safe by enforcing a mask policy. Students were allowed to remove masks when sitting, but had to keep them on when walking around or dancing.
Once the lights in the ballroom were turned off and the strobe lights were brightened, that's when everyone went crazy. I've never seen so many people jumping and dancing around; it was definitely a blast. Dancing was cut short when it was time for dinner, they called tables and there was plenty of food! When dinner was done, it was back to dancing. Then, they opened the dessert bar and guests were able to enjoy a sundae bar.
At first, most students were nervous for prom and some were hesitant to go, but you can definitely tell that the students who attended were happy that they went. After speaking with friends of mine that did not attend, they have expressed regret because of how fun it looked.
For one night, the coronavirus was off of everyone's minds and it felt like like a "normal" day. Hosting a prom during the pandemic was a much needed outlet of joy and fun, during an otherwise stressful and difficult time. 
Leave a Comment
About the Contributor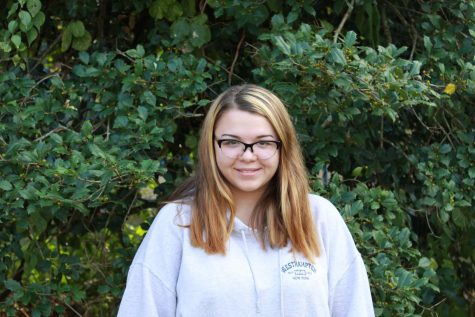 Emily C., Staff Writer
Grade level

Sophomore

Hobbies outside of school

I like reading and listening to music and also hanging out with my friends.

Areas that I am...