I AM THAT GIRL: Supporting Women in Point Boro High School
If you've opened TikTok any time in the past 6 months, you've probably heard of "that girl" – a girl who embraces herself, creates healthy habits, and uplifts other women. Becoming "that girl" is a recent trend to inspire young girls and women into become the best version of themselves. Whether it be through skincare, exercise, journaling, or any other forms of self care, the idea of becoming "that girl" is to become the absolue best version of yourself and prioritize your own wellness. It's focus on femininity has inspired many young women around the world. This online movement was inspired by Alexis Jones' book titled I AM THAT GIRL, who writes all about the importance of empowering women. Now, this mindset is officially here in Point Boro High School in the form of a new club founded by Kate Willis called I Am That Girl.
The I Am That Girl club is focused on creating a positive mindset, having a safe space, and overall embracing confidence through femininity – although the club itself is not limited for girls only. Although the phrase is geared towards women, Kate Willis the creator and leader of the club – wants to inspire confidence in ALL genders through her club. In an interview with Kate, she states "the clubs main focus and goal is to create a community of strong powerful girls who know how to love themselves and others."
Kate was inspired to create this club after reading I AM THAT GIRL. Her priority with this club is to carry on Jones' message of self love and supporting women: "I want people to have a voice and a safe space in this school," said Kate, "This club is like a way for people to go our of their comfort zone and talk about problems and things that bother them so we can make a change in school or in the world in general." Kate hopes to take this inspiring message outside of the school walls. When asked about future activities, she says that the club will range from small art projects all the way to a period drive for a local women's shelter.
This is exactly the type of club that all schools should strive for. It's important for women to have a space where they feel comfortable sharing their concerns and lifting other women up instead of trying to put them down.  If you're interested in joining the club or want updates regarding club dates, feel free to follow @iamthatgirl.ptborohs on Instagram or reach out to Kate or Mrs. Soliman for updates. Femininity is all about love and support, and Point Boro's brand new I Am That Girl club will plans to bring that to light and create a more positive school environment for people of all genders.
Leave a Comment
About the Contributor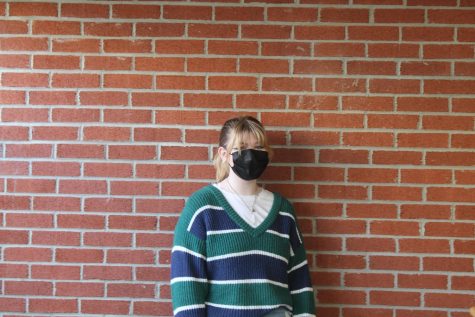 Mia R., Public Relations
My name is Mia R. and I'm a sophomore here at Point Pleasant High School. I joined journalism because of my love of writing and research, and I wanted...