Class of 2024 Junior Prom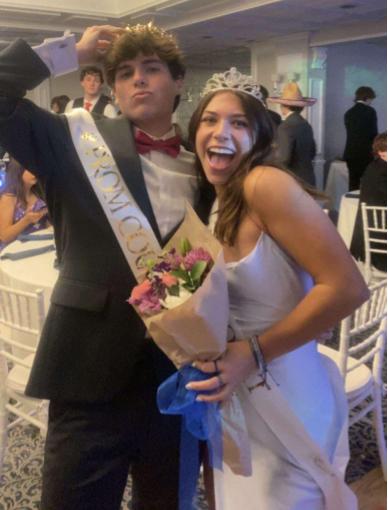 With all the stress and anxiety of the unknowns that Junior prom held this year, it was great to see how everything came together and it all paid off for the Juniors having a really great night with all their friends!
The junior prom was held at The Shore Club in Spring Lake, trolleys began to arrive at around 6 where the students would go in to get their place cards before finding their seats and getting settled. Appetizers and Shirley temples were served before everyone got comfortable enough to dance with their friends on the dance floor!
The photographer captured great pictures throughout the night and there was even a photo booth with props for people to use with their friends and even the teachers had fun using it too. When dinner was served there was a buffet of salad, bread, penne vodka, and a chicken dish before there was a dessert table offered for students to get ice cream with a variety of toppings and an assortment of baked goods. 
Throughout the day, a poll was put on Google Classroom for the students to put who they wanted as prom king and queen. They announced the court after dessert: the nominees for queen were Maddie Scalabrini, Sydney Lubischer, Kate Willis, Mackenzie Woit, and Natalia Hanzelyova. The nominees for king were Ryan Brennan, Jayson Bennett, David Mammano, Ryan Kanarkowski, and Ethan Harrison.
The class of 2024 prom king and queen was Ryan Brennan and Sydney Lubischer and the night was followed by a great time for friends to spend together and make the best memories!
Leave a Comment