Senior Editor Send Off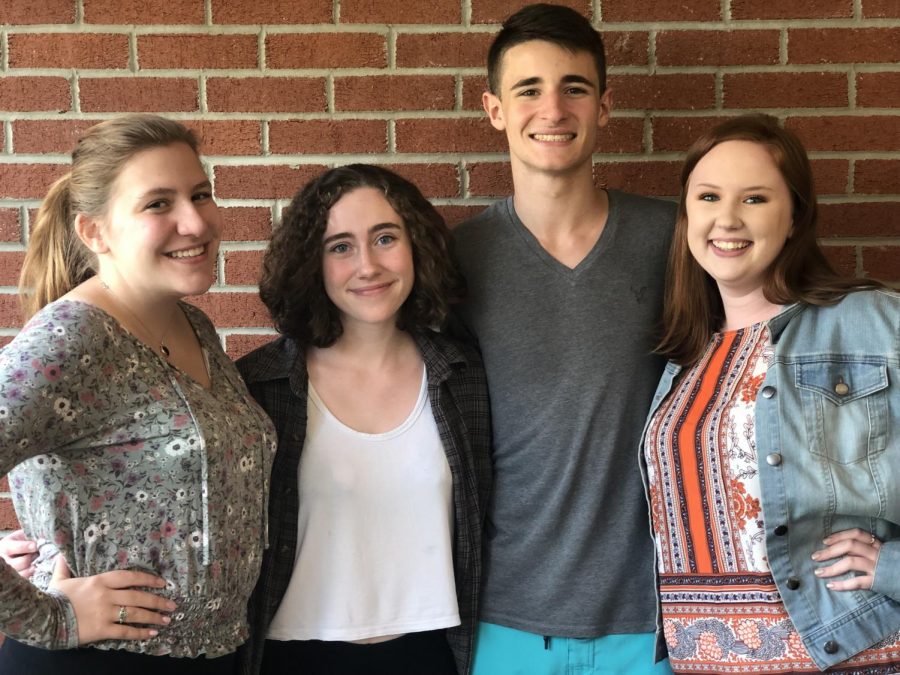 Before The Point Press, the Point Pleasant Boro High School newspaper was a paper production that was circulated in classrooms and in the school cafeteria.  As a new Journalism class, we decided that there were topics and events that our student body wanted to read about, and ventured to create something that was more reflective of students' experiences throughout the year. Thanks to the hard work and endless dedication of  Mrs. Manser and Mrs. Jensen, as well as the students in the Journalism class and Newspaper Club, The Point Press was born! This newspaper has been an outlet for student voices, an opportunity to recognize our incredible staff, and another way to highlight our students' achievements in sports and the arts. As we say goodbye to the 2018-2019 school year, we would also like to take a moment to say goodbye to our senior staff at The Point Press. Thank you for all of your hard work and commitment! We wish you the best of luck at University and beyond!
EDITOR IN CHIEF CARRINNA MAGHAN:  This paper means so much to me! I am so grateful for Mrs. Manser and Mrs. Jensen for making the whole year (and the revival of our newspaper) wonderful, exciting, and purposeful! I feel like our Journalism class became a small family, and I'll never forget the laughs we've shared, the rush of last-minute editing, and the memories we made. Thank you for everything. To the next Editor in Chief–be bold, be passionate, and good luck!
ASSISTANT EDITOR MEGAN WARD: Being a part of The Point Press staff has been so rewarding to me over the past year. Through this experience I was able to not only improve upon my writing, research, and editing skills but I also got to make amazing friendships. I am so lucky that I got the opportunity to be the first Assistant Editor of the PPBHS online student newspaper EVER! Without Mrs. Jensen and Mrs. Manser this paper would not be possible so thank you so much for your constant dedication and compassion towards this website and our class. Also, I want to say thank you to the rest of the Journalism class for making every day so memorable. To the next Assistant Editor–don't procrastinate and make sure you try to enjoy every second of it!
WEB EDITOR EMILY BROWN: Wow, this year flew by and I can't believe the school year is over! I want to thank Mrs. Jensen and Mrs. Manser for the creation of The Point Press and making my senior year my favorite year of high school. A special shout out to Anthony for telling me about this class; I've never been happier with this choice! I will always have a special place in my heart for our small family and all of the memories we created together. Words can't describe how thankful I am for this little paper and I can't wait to see what the future holds. To the next Web Editor– stay creative and stick to the style guide, trust me its super helpful!!
ARTS & CULTURE EDITOR ANTHONY DIMARIA SADORSKI: I have had so much fun being a part of The Point Press. Being able to build my writing skills and find new topics to write about week after week. Mrs. Jensen and Mrs. Manser have been such wonderful mentors for our paper and we can not thank them enough for all their hard work. Journalism was definitely one of my favorite classes in all four years of high school. I highly recommend that everyone request to be in this class. To the next Arts and Culture Editor– always stay on top of school, world, and current events about the arts. It helps to come prepared with topics you could potentially write about that include a lot of information. Be creative and have a voice. Your voice matters in journalism, as long as you don't attack other's opinions and keep your writing as unbiased as possible. If you are passionate about a topic, run it by the advisors because they will guide you in the right path to write a successful piece. I wish you the best with your future in journalism and thank you for keeping The Point Press alive.