NFL Playoff Predictions
This NFL season has been one to remember so far with big upsets and a lot of unhappy gamblers, but now, it's time for the playoffs. The best teams compete for it all with high scoring games and one of the best atmospheres in all of sports. This season has shown any team can beat any team and there are no "easy games" to pick a winner in. Here are our playoff predictions to help you win your bracket.
Wild Card Round
AFC
#2 Chiefs vs #7 Steelers – In an embarrassing game Ben Rothisberger loses and hits the showers for his last time as a Steeler. I predict Patrick Mahomes will be extremely explosive using Travis Kelce as his main target due to Tyreek Hill injury. Final score 27-10 Chiefs with Mahomes winning player of the week with 300+ passing yards and three total touchdowns.
#3 Bills vs #6 Patriots – This will be the Bills revenge game, beating Belichick in a close game in the freezing cold. The match up of the match up will be JC Jackson guarding Steffon Diggs. Although Jackson has been an absolute star, I have Diggs winning the match up with 7+ receptions, 125+ yards and a touchdown. Final score 35 – 21 Bills.
#4 Bengals vs #5 Raiders – This is probably the toughest match up to predict with both teams being red hot and almost no difference in talent between them. I predict both quarterbacks will throw for 275+ yards and 2+ touchdowns. I do give Joe Burrow a very sizable skill gap over Derek Carr which will lead to the Bengals winning 28-23.
NFC
#2 Buccaneer vs #7 Eagles – As much as I would like to see the Eagles win this game, they haven't beaten a playoff team yet this season and I don't see the Bucs being their first. Even after taking into account that the Bucs are down a fair amount of notable players, I can't bet against the G.O.A.T.. In the loss I do believe the Eagles will still establish a great run game considering they are the number one ranked rushing team in the league with the Bucs having the 31st ranked run defense through the last 5 weeks. The final score will be 28-17 Bucs.
#3 Cowboys vs #6 49ers – This will be the best NFC match up of the weekend with it being a dog fight for the win. The high octane offense that the cowboys have mixed with the well coached and Fred Warner led 49ers defense, it's hard to pick a winner. Although most people would say the Cowboys are the favorites I'm taking the 49ers in an upset victory. Deebo Samuel and George Kittle will be too much for the cowboys defense to handle especially since the Cowboys have the worst corner in the league when it comes to letting up yardage with Trevon Diggs. My final score prediction is 27-17 49ers.
#4 Rams vs #5 Cardinals – Considering how bad the Cardinals have been in the second half of the season, I think this is a pretty easy game to pick. The Rams are going to be coming out with a vengeance after losing to the 49ers a week prior and will start firing straight out of the gates. The Cardinals have been a joke these past couple weeks and I don't expect anything to change. Stafford will have 300+ yards and 3+ passing touchdowns in their 35-17 win over the Cardinals which will also be Stafford's first playoff win.
Divisional Round
AFC
#1 Titans vs #4 Bengals – This is a match up for the ages, the king vs the rising star quarterback, air raid vs the ground game. It will be a difficult match up with the titans having the number one ranked run defense since week 7, they will still have a tough time getting to Joe Mixon who is having the best season of his career which I think is the secret weapon to beating the Titans. I also believe in his first game back Derrick Henry will be held to 75 yards or less with at most 1 touchdown, which is still considered a pretty good game for a running back but a not so great one for the king himself. The final score will be 27-23 Bengals.
#2 Chiefs vs #3 Bills – This is going to be a wild game with it being the Steffon Diggs revenge game. After their loss in the AFC championship the year prior, Diggs stayed on the field to watch the entire championship celebration the Chiefs had. I think Diggs will come out firing with 125+ yards and 1+ touchdown with Josh Allen throwing for 350+ yards and 3 total touchdowns. I think Patrick Mahomes will also have a great game with 300+ passing yards but will have at least 2 interceptions in the game which will ultimately lead to their 31-28 loss.
NFC
#1 Packers vs #6 49ers – I think that the Packers will dominate in this game with a well rested Rodgers and O line and use the air raid offense to their advantage. Rodgers will come out firing with 325+ Passing yards and 4+ total touchdowns with him giving Devnate Adams 100+ yards and 2+ touchdowns on the day. For some reason I feel as if there is a big injury that's going to happen in this game. My final score prediction is 38-27 Packers.
#2 Buccaneers vs #4 Rams – I know it is hard to bet against Brady but I feel as if his weapons are too weak due to injury and that he won't be able to get it done. There is just too much star power on the Rams that if they can't get it done vs this injured team, it would be kind of embarrassing. However, I feel as if it will be a defensive game and that Stafford will have 2+ interceptions with Brady having at least one. Although I predict Stafford will have a bad game, I believe Cooper Kupp will have 150+ yards and a touchdown. The final score of the game will be 24-14 Rams.
Championship
AFC
#3 Bills vs #4 Bengals – Although everything about the match up looks close, I feel as if it will be an embarrassing match up with the Bengals going into the Bills Stadium and getting beat by at least 17 points. The keys to the game, Devin Singletary and the defense. With the Bills defense being ranked highly in almost all areas, and Devin Singletary emerging as a true running back 1, there is no way they can lose. The final score of the game will be 31-14 Bills.
NFC
#1 Packers vs #4 Rams – I think that the Rams take this game just because Rodgers can't make it past the NFC championship game. No final score prediction, I just know the Packers are losing.
Super Bowl
Bills vs Rams – There is so much talent on both sides of the ball for both teams that it is almost impossible to pick a winner. There is nothing separating the two defenses skill wise with both putting up similar numbers all year long. The offenses are similar too with a star quarterback, emerging running back, and a star receiver on both teams. I think it will be a shootout with both teams having 300+ passing yards, 75+ rushing yards and at least 4 touchdowns each. Although I think the Bills will be a tough challenge, I think the Rams will come out victorious in a close 42-38 game!
Leave a Comment
About the Contributor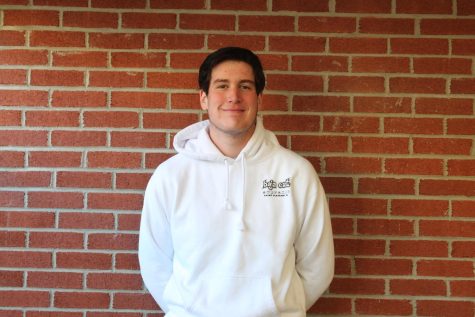 Matt A., Staff
My name is Matt A. and I am a staff member of The Point Press. I am in my senior year at high school and decided to join the club in order to enhance my...